'Satyagraha Then and Now'
by
Aruna Roy and Mridula Mukherjee
Moderated by Varsha Das
25th January 2022
18:00 IST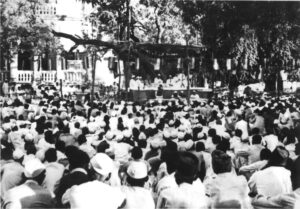 Satyagraha is a unique contribution made by Mahatma Gandhi. Is it a strategy, a methodology or a philosophy? Is it to register one's dissent or fight for justice? This and various other aspects of Satyagraha will be discussed by Smt. Aruna Roy, Smt. Mridula Mukherjee and Smt. Varsha Das on the 25th of January at 6 PM. Mridula ji will give the historical perspective and broad definition of Satyagraha with specific examples. Aruna ji will narrate her experiences of initiating and participating in various movements of contemporary times, and Varsha ji will moderate the discussion.
Aruna Roy is a activist and Founder-Member, Mazdoor Kisan Shakti Sanghathan (MKSS), National Campaign to People's Right to Information (NCPRI), and the School for Democracy (SFD). She has worked for accessing constitutional rights for the poor. Currently she is in a Cabinet and Council member of Progressive International. She is President of the National Federation of Indian Women (NFIW). Awards include the Ramon Magsaysay Award, the Nani Palkiwala Award and the Lal Bahadur Shastri National Award.
Mridula Mukherjee has taught History at the Centre for Historical Studies, JNU, for over four decades.  She was Director, Nehru Memorial Museum and Library, from 2006 to 2011, and Dean, School of Social Sciences, JNU from 2012 to 2014. She has been a Visiting Professor at various universities abroad. She has authored and co-authored a number of books that include India's Struggle for Independence, Peasants in India's Non-violent Revolution, and Colonialising Agriculture etc.
Dr. Varsha Das born in the family of Satyagrahis writes fiction, non-fiction, poetry, radio plays and also for children in Gujarati, Hindi and English; and translates from Bengali, English, Gujarati, Hindi, Marathi and Odia. She is a recipient of various awards including Hon. Professorship of Soka University, Japan for her contribution in the field of peace, culture and education. She worked with National Book Trust, India for three decades, and later served as the Director of National Gandhi Museum, New Delhi.
Click here to Register students are encouraged