'Pichhwai in Black and White'
by
Jayshree Poddar
05th February 2022
18:00 IST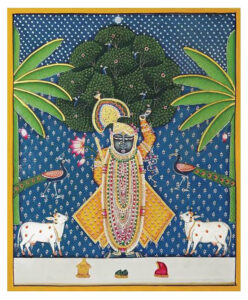 In the end, all colors are either black or white. Therefore, some can also argue that all colors emerge either from black or white. The presence (or absence) of these two colors creates a contrast to reveal austere, clear, and sharply defined forms. And Jayshree Poddar works with this form.
If there is any piece of art where 'rang' is most present in all its forms, it is in a Pichhwai. Intricate and visually stunning, pichhwai paintings, made on cloth, dropped in the background of Shreenathji, depict tales from Lord Krishna's life. Jayshree Poddar plays with these colors in black and white.
In her recent exhibition at Bangalore, Jayshree Poddar showed Pichhwai paintings woven on a Jacquard loom to express spirituality through textile and art in a playful and personalized, but devotional, spirit. She was drawn to the Pichhwai in its original form. She dove deep into it to get absorbed by the multiplicity of the imagery in the paintings of trees, cows, the sky, and the stars, and much more with Shreenathji as the central figure!
Usually the Pichhwai has a variety of colors. Sometimes, the Pichhwai has an absence of the figure of Shreenathji so that the idol fills up the empty space in the center. Her session is about presence as well as absence of colors in black and white when they intersect between art, textile, and design. Jayshree Poddar addresses the growing demand from the participants of Understand Color series to know more about how black and white relate to many other colors.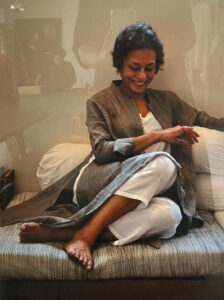 Jayshree Poddar, NID Alumnus, has energetically worked at the intersection of design, art and textiles with success at national and international level. One of the best examples of her work was her recent exhibition 'Many Moons' at Shanti Sadan.
Click here to Register students are encouraged