'Abstraction of Form and Color'
by
Rekha Rao
16th July 2022
18:00 IST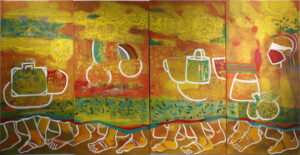 Born to hope and imagine a new society in independent India, Rekha Hebbar Rao feels a sense of loss and sadness for a brutally battered environment. For her, memory and experience has thrown up multiple images and perspectives from time to time. Beyond the predicament of human experience there are elemental forces and areas of life that are accessible. And it is this area that allows her to travel and delve out images. Color is the core of her paintings. She is aware of the alienation we suffer today and she hopes that her paintings will communicate, energize and restore some semblance of equilibrium between man and nature.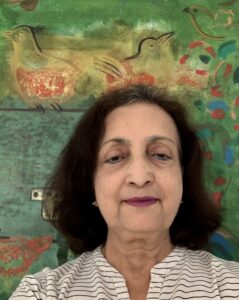 Rekha Hebbar Rao studied painting under her eminent artist father K K HEBBAR. She holds a post graduate degree in History from Bombay University. She held her first solo show at Jehangir Art Gallery Mumbai 1969 and this was followed by several solo shows in private galleries, Group Shows and Art Camps in India and Abroad.
Her collection can be viewed at National Gallery of Modern Art (NGMA), Mumbai, Lalit Kala Akademi, New Delhi. Singapore National Museum, Fukuoka Gallery Japan and Venkatappa Gallery Bengaluru, and many more. She has been awarded Suvarna Karnataka Rajyotsava Award 2006, The Maharashtra State Award, The Lalit Kala Akademi, Lucknow, and Critics Award Bombay. She lives and works in Bengaluru.
Click here to Register students are encouraged