'
Colours in

My Paintings

'

by
Jatin Das

18th December 2021
18:00 IST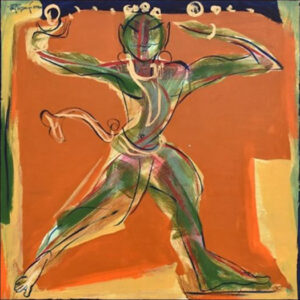 It is difficult to think of our times without the impact of Jatin Das and his art. He is a painter, poet, sculptor, muralist, printmaker, teacher, and most importantly a continued attraction to young artists and artisans alike.
The human body holds an endless fascination for Jatin Das and he pursues his quest for dynamic figures tirelessly, using linear structures and quick brushwork.
He will speak about color through his journey as an artist, unending engagement with the human form in his work, and how themes and subjects come to him from his own work, past and present, pertaining to color.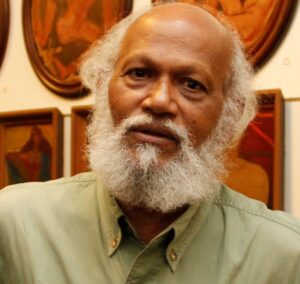 Jatin Das believes that every element of life has inherent energy. This energy is evident in his paintings of men and women. Rhythmic discontinuities of color planes and rushing lines characterize his work. As if he draws subtleties of thoughts and feelings through the use of color.
In his recent exhibition 'Prakruti Purusha' at Archer Gallery, Ahmedabad, he has explored Shiva-Shakti form and colors in his paintings and serigraphs, inspired by the Ellora caves.
He chairs the J D Centre of Arts where his collection of modern art, antiquities, crafts, handlooms, and art books are housed to support young artists and artisans. In 2012 he was conferred the Padma Bhushan, by the President of India. He painted 'The Journey of India: Mohenjo-Daro to Mahatma Gandhi' (7x68ft), at the Indian Parliament, commemorating 50 years of India's independence.
Click here to Register students are encouraged