Learning Color without Color Theory
27th November 2021
18:00 IST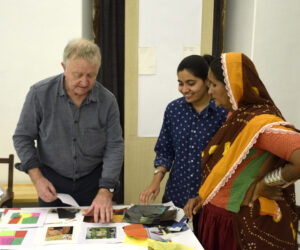 Armin Hofmann's Color portfolio along with his seven original serigraphs were offered by him as a gift to Giraben as a color workshop was held at Shanti Sadan. It was the first in a series of events to follow the Learning Color initiative. Learning Color at Shanti Sadan aims at stimulating connections between approaches while also incorporating reflections and research interests of individual participants, in and around color. The opening of the event was followed by the display of serigraphs of Armin Hoffmann and his unique portfolio of silk-screen prints. A provocative lecture by Moritz Zwimpfer on 'Learning Color without Color Theory' followed. Cornelia Vogelsanger kindly illuminated the way ahead.
In the days ahead, the Colour workshop was held, which may have been one of its kind in the recent past, by Moritz Zwimpfer who sought to raise the participants' sensitivity to the qualities and effects of color. The main goal of the exercise was to stimulate in each participant a deep personal relation to colors leaving behind color theories. Participants of the color workshop were a mix of widely scattered individuals: including architects, designers, photographers, artists, artisans, weavers, and crafts-people. Evening lectures were delivered by Archana Shah and Seema Khanwalkar who reflected on Color and Textiles; Color, Language and Writers respectively.
This confluence of ideas and people highlight that even a small initiative, if well thought out and executed, can work wonders. Shanti Sadan is happy to learn from these events and disseminate the imbibed lessons to educators, practitioners and researchers to advance knowledge about color.
What has come out of the workshop for the session on November 27, 2021 are the insights into pedagogy, theories, speculations, tools and processes on learning as well as color. The three days of this workshop has also shown the interconnectedness among the arts, practice, design, crafts, technology and more. In the workshop, in many ways, there was direct focus on learning, using hands and minds, under the leadership of heart.
The session on November 27, 2021 offers some of the most striking composition on and about color as well as the processes leading to these compositions.
Click here to Register students are encouraged